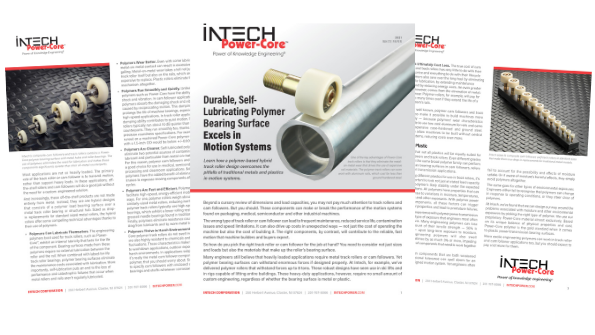 Plastic Cam Follower and Rollers Improve Motion System Performance
When designing motion systems that require rollers or cam followers, many engineers still believe that only all-metal components will fit the bill. Yet cam followers and rollers with polymer bearing surfaces have emerged as a high-performance alternative to traditional metal motion components.
These composite cam follower and rollers combine a plastic load bearing surface with a metal roller bearing or structural hub. Sized as drop-in replacements for standard sized metal rollers, composite cam followers and rollers offer some compelling technical advantages— including reduced maintenance costs, improved performance and extended lifecycle.
Our latest white paper delves into all the engineering details you'll need to know about composite cam follower and rollers. You'll learn about the types of polymer that work best in motion systems and see application examples.
Download the paper today and learn how plastics can improve your cam- and roller-driven motion systems.
Standard sizes
iCamFollower® sizes can be directly cross referenced to metal CF's for easy replacement.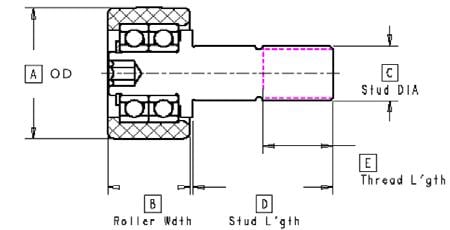 Intech PowerCore™ Cam Follower Sizes (Metric Sizes Also Availible!)
PART NO.

Outside Dia. A [IN]

Width B [IN]

Stud Dia. C [IN]

Stud L'gth. D [IN]

Thread L'gth.E [IN]

Fine Threads UNF

Load Capacity

Lb

IPC-0.500

IPC-0.625

IPC-0.750

IPC-0.875

IPC-1.000

IPC-1.125

IPC-1.250

IPC-1.375

IPC-1.500

IPC-1.625

IPC-1.750

IPC-1.875

IPC-2.000
Cross Reference Chart
Intech PART NO.

McGill Part No.

RBC Part No.

Osborne Part No.

Carter Part. No.

Torrington Part No.

INA Part

No.

Smith Part

No.

IPC-0.625

IPC-0.750

IPC-0.875

IPC-1.000

IPC-1.125

IPC-1.250

IPC-1.375

IPC-1.500

IPC-1.625

IPC-1.750

IPC-1.875

IPC-2.000
Call us Toll-Free 1-877-218-2650 to request a no-obligation price quote for your application
or send any questions via E-Mail to: info@intechpower.com