The Benefits of Intech Power-Core
™

Rollers

When using Power-Core rollers you will benefit from the following advantages.
very high load bearing capacity
very high shock absorption capability
high resistance to flat development
low rolling resistance
does not swell in moisture
reduced wear on mating parts (rails)
wear resistant
reduced noise
no expansion of roller bearing seats under a temperature fluctuation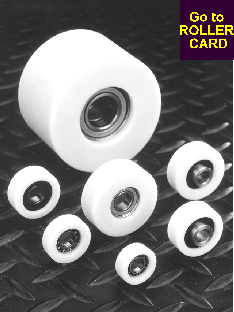 Material advantages - High static and dynamic load resistance.
Rollers made of Power-Core are especially resistant against compression under static loads. The unique crystalline structure of the Power-Core material makes the material suitable to carry static loads without developing a permanent flattening. The high deformation resistance and internal elasticity make it ideal for rollers subjected to higher dynamic and shock loads. The material is gravity cast into molds. During the cooling period crystallization takes place and groups of crystals are lumped together in formation of spherolites. The spherolite requires more energy to break up than individual crystals. This phenomenon can explain the material's superior physical properties at elevated operating temperatures not achieved in injection molding processes. It is stress-free, dimensionally stable, does not absorb moisture and withstands high loads. The rollers are precision machined from solid bars and tubes.
Design advantages - Snap-in roller design
A snap-in configuration provides a positive pressure contact between the outer ring of the bearing and the plastic tire. Because of the shrink fit of the tire to the bearing, there is no expansion of the roller bearing seat during the operation under temperature fluctuations and high loads. This ensures a precise rolling motion. The precision tire is machined slightly undersized, then heated to a certain temperature and the bearing is installed. When the tire cools down it shrinks around the bearing and the resulting thermal press fit is about 2000 psi. This design enables us to use the roller in a wide temperature range, including outdoor use, and still maintain the bearing fit. The snap-in design also eliminates the need of retaining rings. We are able to use this bearing installation method because of the stress-free structure of the material.
Article by Boyka Kriakova, Design Engineer at Intech Corporation