Intech POWER-CORE Non-Lubricated Gears Replace Metal Gears in Belvac Neckers Model 595, 795, Modular, etc.
Benefits of Intech Power-Core Gears:
No oil draining and refilling when adjustments on the turret are necessary;
No more oil leaks;
Reduced noise and vibration;
Integral metal core for high torque transmissions;
Proven performance, sudden stops (jams) did not damage gears;
High impact strength, up to three times higher than other Nylons;
Require 50% less backlash;
Do not swell or lose tensile strength in moisture;
Available for 575, 795 and modular models;
Used in joining two multi-stage neckers;
Longest running installation: 6 years, no visible wear;
Expected life 10 years plus
Over 300 gears installed in Belvac Neckers.
Background: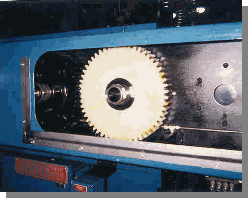 Intech Power-Core non-lubricated gears were introduced in 1995, in a 3-stage 595 Belvac Necker. The original gears are still working today without sign of any significant wear. Since their introduction, over 300 Intech Power-Core gears have been installed in the industry on Belvac Neckers, including on 795 and modular models.
Recently the non-lubricated gears were used to join two 5-stage Neckers into one 10-stage Necker. The non-lubricated feature was especially beneficial here as no additional transfer gearbox filled with oil was necessary to join the two machines. The interesting feature of this conversion was, that the drive was located after the 2nd stage, driving 2 stages on one and 8 stages on the other side. The calculation showed that driving a higher numbers of stages, such as 11 or 12, to one side of the drive is possible.
Gear safety calculation:
Intech uses a proprietary gear calculation for the Power-Core material to calculate gear safety and expected gear life. The calculation is based on 10 years of research and experimental data developed in cooperation with a leading university, and provides safety data both relative to wear on the tooth flank and the tooth root stress. Using this data we can also calculate the number of hours the gear is expected to last in an application. For the Necker gears the calculated life is in excess of 10 years. Judging from the performance of the gears during the last 6 years, this estimate was on the conservative side.
Gear material:
The selection of a plastic material is crucial in demanding gear applications. The key design parameters for the Necker gears are: high torque; impact load during sudden stops; precise backlash for turret timing; secure attachment to shaft. Intech Power-Core satisfies all of these requirements. It retains its tensile strength in changing environmental conditions, e.g. humid or dry air, has up to three times the impact strength of Nylon 6, the other plastic material available in the Necker gear size, does not swell in moisture or contract in dry air, allowing for the required narrow backlash tolerance. The gear blank is produced by casting the high strength plastic around a knurled metal core, creating an inseparable bond. Each blank is x-rayed for voids, ensuring 100% blank integrity.
Installation requirements: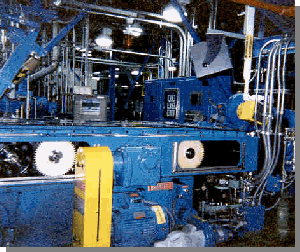 The Intech Power-Core gears are installed in place of either the transfer or turret driving gears. Every other metal gear can remain on the machine. There is no need for oil in the gearbox, and we recommend providing ventilation holes in the housing covers to facilitate airflow through the gearbox.
Material and other gear information:
Read more about the material, gear design and tooth profiles in an article published in Power Transmission Design, July 2000, available in this site, click on the icon below. (If you are unable to download the Adobe Acrobat Reader, please call us for a reprint of the article.)