As manufacturers, transport operators, processors and service providers seek to achieve more environmentally benign operations, Intech Corporation steps up to the challenge with the environmentally friendly Power-Core material and Engineering calculations to predict performance wear-life and cost-savings.

Specially formulated, self-lubricating Intech Power-Core™ composite material exhibits a characteristically tension-free crystalline-structure that provides exceptional stability, quiet performance and outstanding tensile and flexural strength.

Power-Core material reduces wear, noise, vibration, maintenance, lubrication and contamination. A key characteristic of the Power-Core material is its exceptional self-lubricating, long-wearing performance in demanding high temperature, sub-zero, high moisture, high voltage, high friction and weight bearing applications that often cause metal components to fail.

Lubrication-free Power-Core components eliminate the need for hand or centralized lubrication and the attendant problems they cause when lubricating pipes or lines dry out or the content becomes too viscous or runny and clogs or overflows into the machinery—resulting in unscheduled production line shut-down, emergency cleanup, product waste and damage to machinery, equipment, personnel, plant facilities and the environment.

Similarly, the environmentally friendly Intech Power-Core products avoid safety concerns related to worker exposure to noise and direct contact with the lubrication, lubricated parts, hazardous odors, spills, falls resulting from spills and seepage from stored lubricant or wastes.

In addition, Power-Core materials are perfect for long-wear, accuracy and quiet performance like those required in ski lift operations, high speed paper processing and converting, airplane cargo door hardware, packaging equipment, elevator guides, neo-natal incubators, x-y linear positioners, electrically insulated car painting robots and in-plant equipment subjected to demanding high speeds or frequent wash-down cycles.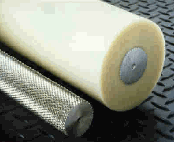 Power-Core rod with cast-in metal core for machining into gears



Our Engineering team at Intech offer custom sizing and design assistance for replacing cast iron, steel, nylon and Delrin® parts with Power-Core materials.