Rugged, high performance Intech Power-Core™ gears, rollers, and cam followers are individually calculated and designed from high performance Power-Core™ material to meet each engineer's specifications for durability, performance, stability, and wear life. Intech engineers analyze the application and provide gear tooth and anti backlash design modifications that have been developed specifically for plastic. Company president, Georg Bartosch asserts "We will not sell a product unless we can first assure ourselves, on paper, that the product will work."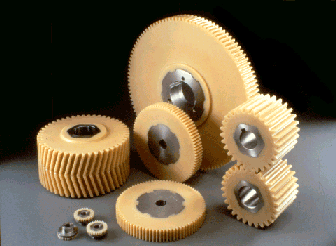 Intech Power-Core™ gears
Engineering calculations, developed in conjunction with a leading university, provide the wear-life and performance assurance the design engineer and OEM depend upon to gain a significant competitive advantage in product marketing and plant/equipment maintenance.
Intech Power-Core™ gears, rollers, and cam followers feature a very dense, stress-free, self-lubricating, homogeneous crystalline structure. The Power-Core™ material does not absorb moisture, offers exceptional impact strength (shock load) resists most chemicals, operates in temperatures from 40º to +160ºF, can be safely cast around metal cores, and can be machined, if desired, by using a fluid coolant.
The integral metal core allows a higher torque transmission via a secure gear attachment to the shaft. In addition, the metal core dissipates generated heat and reduces backlash requirements to make the gear quieter.
Each application is unique. With over 20 years of experience in designing plastic components, Intech engineers begin each project by asking "what if" questions and become involved with the design process.