Intech engineers are frequently asked for help to determine worm gear size, design parameters and to make wear-life projections using our proprietary gear calculations. As a result of these calculations, Intech Power-Core™ composite worm gears are chosen to replace industry-standard bronze gears in demanding operations to increase transmission efficiency with quieter, longer-wearing performance.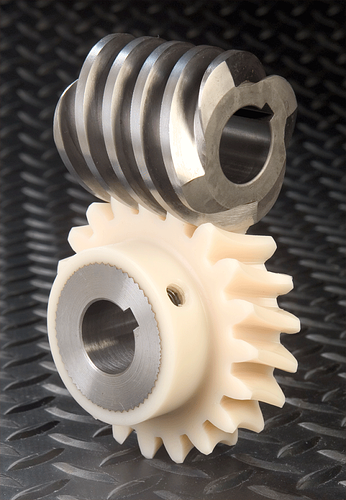 Intech Power-Core Worm Gears


Power-Core material does not require special grade oil or frequent oil changes and the composite material does not generate abrasive particles which become suspended in the oil as a contaminant that contributes to wear. The tough, self-lubricating properties of the composite gear material enable Intech Power-Core worm drives to consistently outlast conventional bronze worm gears.

We completed a 1,000 hour test that compared gear performance between the Intech Power-Core gear and a case-hardened ground steel worm gear, and the results confirmed the capacity of Power-Core material to absorb shock load and vibrations. Test data showed an average noise reduction of 6 dB, with up to an 8% increase in gear transmission efficiency and no wear was detected on the 6.5 PD Power-Core worm gear.

In applications such as conveyors for glass washing or light load semi-conductor manufacturing machinery, the Intech Power-Core worm gears run with only light grease lubrication, or completely dry. Even in high torque applications that result in friction, the self-lubricating Power-Core worm gear can run for extended periods without lubrication.

The mating worm shaft can be made of conventional materials utilizing standard manufacturing methods. The low-maintenance Power-Core composite worm gears use readily available machine oil to lubricate the gear box, instead of more expensive specialized synthetic oil that is usually recommended for bronze worm gears.