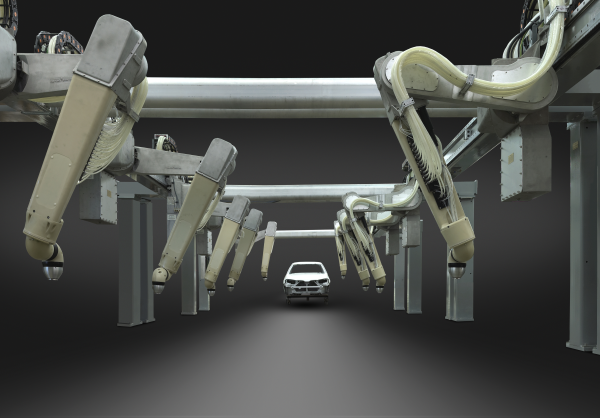 Robotic arms for e-coat systems have traditionally been made from aluminum, whose strength-to-weight ratio made it seem like a good choice for this application. Aluminum, however, has a downside.
Its electrical conductivity allows the arm to attract paint particles whenever the painting system experiences voltage fluctuations. The resulting paint losses quickly build up—typically to more than $300,000 per paint line annually.
To eliminate those losses, a leading paint robot manufacturer and Intech teamed up to engineer an electrically-insulating plastic arm. That engineering proved to be easier said than done for three reasons.
For one, any plastic used in the arm had to offer high-end structural properties and be capable of insulating against 100 kV charges. For another, the part is big—too big to be cost-effectively injection molded in this application. Finally, the part has a challenging geometry.
When looking for a plastic with the right balance of properties, we quickly ruled out common reinforced plastics. Both fiberglass and carbon-fiber reinforced materials would easily have met the structural requirements, but both were too conductive.
Delrin, another possibility, was a suitable insulator, but it was only available in small chunks. The robot manufacturer had also ruled out the possibility of gluing delrin to form the arm.
Ultimately, Intech's knowhow and innovation allowed for a suitable arm to be cast from Power-Core™ cast nylon 12 and for the last 3 generations of robots has proved to be the best choice for the job. Because Power-core™ met the structural and electrical requirements and could also be cost-effectively cast into large, complex shapes, the manufacturer has been able to successfully file and receive patent protection on 5 aspects of the arm that would not have been possible were it not for Intech engineers.
Plastic Requires Design Changes
Switching from aluminum to plastics did require a rethinking of the arm design to account for differences in tensile strength. With a 40,000 psi tensile strength, aluminum could carry the robot payloads with a 100 x 100 mm cross section. The cast nylon has a tensile strength of 8,800 psi, so the cross section had to be increased and a minimum wall thickness of 15 mm had to be maintained throughout the part.
The finished arm ended up at 120 x 30 x 18 cm at its widest point. It weighs 45 kg and is capable of carrying a 150 kg.
Result: because of the uniqueness of our engineering approach and our ability to push the boundaries of our material supply beyond where other material suppliers could Intech was proud to be rated a sole supplier to the automotive paint robot supplier.
For more details on the design and manufacturing challenges using polymers, please contact us using the form to your left.