Lubricating a rack and pinion gear drive is often done manually. In industries, such as in food processing or packaging, where frequent washdowns are required, or where the gears are difficult to access, lubrication may be done only infrequently. Automated lubrication systems represent additional cost and require regular monitoring as they can clog up.
Intech Power-CoreTM gears do not require lubrication, reduce noise, and transmit motion with higher efficiency. The gears are precision machined from Intech's Power-Core material with integral metal core for a secure shaft attachment. For wash down applications the core is available in stainless steel.
An important factor in designing today's high speed machines is low inertia especially in systems where reversing motion is required. Intech Power-Core gears are up to 7x lighter compared to steel, absorb shock and vibration when movement in one direction is reversed, allowing higher machine speeds without sacrificing performance or wear life.
Intech engineers review each application and using a proprietary gear calculation, will advise the customer about the expected life of the gear. In many instances engineers are able to suggest design modification significantly improving the gear's wear life. Intech rack and pinion gears can be found in bakery conveyors, position devices on packaging machines, cutting mechanisms on plastic bottle blow machines or on long gantry motion systems, to name a few.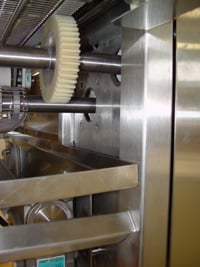 Power-CoreTM gear for bakery conveyor system