Intech's Power-Core® rollers have found uses in applications ranging from industrial machines to transportation. Most of them have seen use in linear motion systems of one kind or another, but there's no reason that these gravity cast nylon 12 rollers cannot be incorporated into rotary motion systems such as our new rotary index table.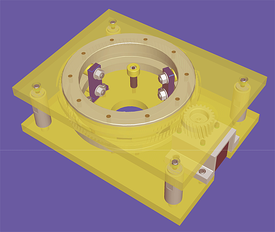 Designed for integration into third-party servo systems, this new rotary index table makes extensive use of rollers and gearing made from Power-Core gravity cast nylon 12. The table's drive mechanism consists of a pinion-driven ring gear whose helix tooth profile eliminates wear and backlash. The gravity cast nylon 12 gear is machined from a polymer blank that has been cast around an aluminum ring. This ring serves as a circular rail and as the mounting surface for the payload.The Power-Core nylon 12 rollers, which mount on the unit's base plate, support the rotating gear and integrated mounting surface. They feature enclosed stainless steel bearings, making the unit suitable for washdown and other corrosive environments.

The use of gravity cast nylon 12 for the drive and bearing elements helps this rotary table outperform all-metal designs in several ways:
Low wear without lubrication. This design avoids the metal-on-metal contact that can shorten the working life of motion systems. The only contact is between two Power- Core nylon components in the case of the drive mechanism and between Power-Core and aluminum in the case of the supporting rails. Power-Core nylon is formulated with an internal lubricant, so no external lubricant is needed. The metal bearings are lubed for life too.
Backlash free. Power-Core gravity cast nylon 12 gears offer a couple of intrinsic advantages when it comes to reducing backlash. For one, their dimensional stability eliminates the need for the backlash compensation required by moisture-sensitive plastics. For another, the uniform crystalline structure of Power-Core nylon 12 and our gravity casting production methods produce gear blanks with very low internal stresses and uniform machining resistance. These characteristics allow very precision machining of tooth profiles that have been optimized for backlash reduction–and would be difficult to achieve in metal.
Fast and smooth. The low-inertia of the gearing and
the rollers helps the table operate at higher speeds. By producing a tighter inertia ratio between the motor and driven load, the low inertia of the Power-Core drive components also makes it easier to tune the controls for a smooth, precise motion profile, particularly when moving light payloads.
Washes down, resists chemicals. Power-Core nylon 12's dimensional stability in the presence of moisture and its thermal stability make this rotary table a good fit for washdown, high-humidity and high-temperature applications that would prohibit the use of less capable polymers. Nylon 6, for example, can exhibit a dramatic loss in tensile properties and undergo dimensional changes when exposed to moisture and high heat levels. Power-Core nylon 12 also offers excellent chemical resistance compared to nylon 6 and other polymers used in power transmission applications.
Cleanroom friendly. Because Power-Core nylon 12 resists wear and does not throw off the particulate associated with externally lubricated metal power transmission components, clean room use is a natural fit for this rotary table design.
Scaleable. By manipulating the size of the gear and roller components, the table design can be scaled to handle payloads ranging from ounces to tons.