During the developmental stage of a new zipper pouch packaging machine, Hayssen, a division of Barry-Wehmiller, the largest packaging automation group in the Western Hemisphere asked us to devise a Power-Core™ non-lubricated gear solution to replace a structure of timing belts and pulleys that required frequent, lengthy machine shut-downs for maintenance and replacement service.

Hayssen's Lead Developer for the integrated transverse zipper applicator noticed that the original timing belt and pulley design had significant problems with precision feed length, cut, placement and seal of thicker, higher profile zipper tapes. In addition, the difficult-to-reach timing belt and pulley assemblies stretched around tight radii and became prone to breakage and frequent maintenance.

Intech's engineering team were able to determine a non-lubricated solution to the power train design using our gear system that capitalized on a truly unique power train design and resultant production uptime.

A pouch/pillow bag with integrated zipper is formed on the Hayssen vertical form/fill/seal machine using an exact amount of zipper material by applying it to the film before it is formed into the finished bag. Intech engineers responded to mechanical design issues that included overall clearance and tight-quarters required by the zipper tape pathway and a minimal backlash by designing small pitch diameter Power-Core gears for the gear train. In addition, concerns for USDA-3A compatibility mandated the use of stainless steel and non-corrosive gear materials.

Using proprietary gear life calculations and a special gear tooth modification to accommodate the set center distances and speed ratios of the rubber rollers, Intech was able to overcome the tight center distances and frequent stop and go requirements with a design solution that Intech calculated to last a minimum of 4 years in continuous operation without lubrication.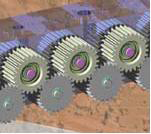 Geared Roller Assembly