"Metal cam followers are overrated" said one packaging engineer in a recent conversation when asked why he opted for Intech's iCamFollowers®. Here is why we agree with his opinion:

It seems that a large number of cam followers, metal ones that is, are used for their convenience not their load carrying capacity. Tap out a hole and you are ready to install a cam follower, providing designers with an instant "wheel" that allows parts of machines to move back and forth. The cam follower was not selected for its load capacity, rather enabling a movement required by the process.

There is a price to pay for this convenience. The rail on which the metal cam follower runs has to be periodically lubricated, as does the needle bearing in the cam follower. Lubrication, especially surface lubrication can contaminate packages and is a constant burden on maintenance. If you do not lubricate, the rail will wear and if you apply too much grease, there is a good chance that some of it will end up on the product. Over greasing of the cam followers' needle bearing may cause the cam follower to stop rotating and instead be "dragged" along, causing a flat spot on the outer racer and excessive wear on the rail. This can happen when the radial load is relatively light for the heavy duty cam follower or if the radial load drops to zero during the operating cycle, for example on cams where the cam followers are used to exert force in only a portion of 360° rotation of the cam.

To replace a damaged cam follower is relatively inexpensive, while replacing a fixed rail or a cam can cost days of down time. Grease contaminated products carry their own cost.

Intech's iCamFollowers® eliminate both the need to lubricate and rail wear and offer a cost effective alternative to metal cam followers in most packaging applications. The easy rolling, precision ball bearings thermally installed in the plastic tire offer very little rolling resistance and are lubricated for life. This ensures a smooth rolling motion even in light duty applications. Not to worry, the iCams will also carry heavy loads. Intech engineers developed a load / life expectancy calculation and the resulting load data allows engineers to select a cam follower suitable for the load in their application. So for example the IPC – 1.500 iCam will carry 300 lbs for 100 million cycles (1 cycle = one 360° rotation) without developing a flat or wearing out. Most importantly, it will not wear out the rail, steel or aluminum.

In addition to being able to carry high loads, the plastic tire will absorb shock & vibration, reduce rolling resistance, cut noise by up to 10 dB, and will work in sub-zero temperatures. For wash down applications the cam follower is delivered with stainless steel shafts and bearings. All this without lubrication or rail wear.

Intech's iCamFollowers® also open up the way to more cost effective designs. Since iCamFollowers do not wear out the rails, designers can run the iCams directly on aluminum frames, without having to use steel or stainless steel strips to prevent rail wear. To further simplify the design central lubrication systems' need for cam follower lubrication can be eliminated.

Are metal cam followers in your application overrated? Intech engineers can help you to determine that.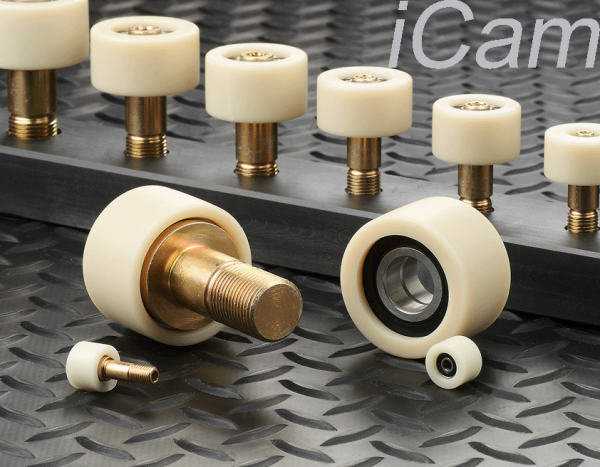 Intech's long-wearing, lubrication-free, heavy duty iCamFollowers® replace conventional metal cam followers