Polymer Eliminates Contamination in Linear Motion Systems
In an ideal world, linear motion systems would run only in squeaky clean operating environments. In the real world, linear motion systems usually have to run in plants with varying degrees of contamination, chemical exposures or moisture. These less-than-ideal conditions can shorten the lifespan of linear motion systems that rely solely on metal drive components—particularly rack-and-pinions.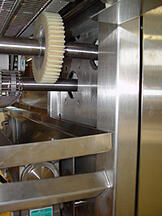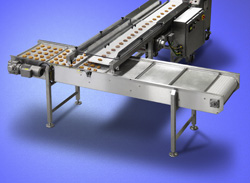 (Pictured Above: Intech Power-Core™ Gear and Stainless Steel Rack in a High Speed Retractable Bakery conveyor - Read More Here )
To meet the challenges posed by real-world operating conditions, we have designed and delivered many rack-and-pinion systems based on our Power-Core™ polymer. Typically these consist of an Intech Power-Core™ gear with a stainless steel core and a stainless steel rack, though some applications have been best served by a Power-Core™ rack and a stainless steel pinion.
Either way, we've found that use of polymers has five key advantages in rack-and-pinion applications:
Eliminates lubrication. As a self-lubricating polymer, Power-Core

™

does away with the need to apply lubricants over the life of the rack and pinion. The elimination of lubricant eliminates a key source of contamination in sensitive applications such as packaging, pharmaceutical, semiconductor or food processing.
Extends wear life. Power-Core

™

and stainless-steel together offer an extended wear life and typically last for several years longer than all-metal designs. The user of Power-Core

™

has also allowed us to create some design features that further extend wear life—such as pitch line control feature prevents pinions from bottoming out.
Prevents corrosion. Traditional rack and pinion designs with metal gearing are subject to rust and corrosion, particularly in washdown applications. As a polymer, Power-Core

™

does not corrode at all.
Remains dimensionally stable. Thanks to the physical properties of its base polymer, Power-Core does not suffer from dimensional and tensile property changes that affect conventional polymers when exposed to moisture, chemicals or elevated temperatures. Power-Core's base polymer has one of the lowest moisture absorption rates of any engineering plastic. Power-Core

™

stands up to a wide range of industrial chemicals. And Power-Core

™

exhibits about 50% better high-temperature performance than comparable engineering polymers.
Improves motion control. Power-Core

™

can produce rack-and-pinions that operate both smoothly and quietly as the rack moves back and forth, reducing noise by about 6 dBa compared to all meal components. The reason is that polymer has intrinsic vibration and shock load damping properties. Power-Core

™

components also weigh about 85% less than a comparable metal component. In motion applications, this weight reduction translates directly to reductions in moving mass and inertia.
Rack-and-pinions based on plastics components do have to overcome the perception that they won't be as durable or carry the same loads as the all-metal designs familiar to motion control engineers. However, we've proven that perception false time and time again.
Our experience with gear design and predictive analysis has allowed us to design polymer rack-and-pinion systems that can and do outlast all-metal designs in highly-loaded applications. To learn more, give us a call.