Of all the large, load-bearing applications for our Power-Core cast polymer, one of the most challenging has been the driven conveyor rollers for spiral welding systems. These plastic conveyor rollers, which have a v-shaped profile, can carry 60-inch oil, gas or chemical pipelines weighing up 33 tons.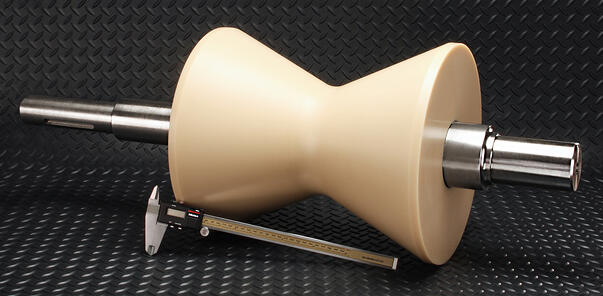 With a weight of nearly 180 pounds and a diameter of 17 inches, these heavy-duty conveyor rollers go a long way in demonstrating Power-Core's load bearing capabilities. But there's more to these large parts than their ability to withstand heavy loads. Power-Coreoffered three other key benefits in this heavy-duty application:
Wear resistance. While steel conveyor rollers could easily withstand the forces exerted by the heavy pipeline sections, the resulting metal-on-metal wear would have dramatically shortened the life of the rollers and potentially damaged the pipeline itself. Power-Core completely eliminated this wear mechanism. Power-Core also won out over urethane-coated conveyor rollers, which are commonly used in pipe coating and welding. Like Power-Core, urethane coatings protect the pipeline from metal-on-metal wear. And like Power-Core, urethanes are are non-marking, which is important in many pipe coating applications. However, Power-Core's wear properties allow it to last two to three times longer than urethanes in pipe transport applications.

Dimensional stability. Compared to other thermoplastics and rubbers, Power-Core has an entirely uniform crystalline structure, extremely low internal stresses and an insensitivity to the effects of temperature and moisture. These factors enable the material to remain dimensionally stable over time. Even when continuously exposed to elevated temperatures and high forces found on a welding line, the large rollers hold their roundness specification without developing any flat spots.

Assembly friendly. Power-Core's casting process makes it possible to integrate features, which allowed the roller to be integrate easily with its motor assembly. To take one example, the shaft that connects the rollers to the gear box and motor have been cast directly into the roller, which ensures the plastic won't separate from the shaft as often happens in coated conveyor rollers.