NON-METALLIC GEARS FOR DEMANDING APPLICATIONS TO REDUCE NOISE, GEAR SHOCK AND VIBRATION
Advantages
Replace Cast Iron, Steel, Delrin, Nylon
Run without Lubrication up to 1200 ft/min
Reduce Wear, Maintenance, and Oil Contamination
Gain Higher Speeds
Reduce Noise up to 6 dBA
Reduce Gear Vibration and Shock
Reduce Weight, i.e. Less Mass in Stop-and- Go Operations
We will size the gear for you. Send in the Gear Card or e-mail your application data!
The Gear Material
Stress-Free, Crystalline Structure
No Moisture Absorption
Dimensionally Stable
Self-Lubricating
Cast Around Metal Hub
Light-Weight (0.037 lb/in3)
Resistance to Corrosion and Chemicals
Replaces SS in Many Applications
The Metal Core
Advantages and Benefits:
High Torque Transmission
Secure Shaft Attachment
Bolt Holes/Bolt Circle Placed in Metal
Even Torque Distribution to Gear Mesh
Dissipates Heat, Cuts Thermal Expansion of Composite up to 50 %
Absorbs Stresses Generated on Keyway
Metal Core Available in CRS, SS or AL from 1/2" to 16" Diameters.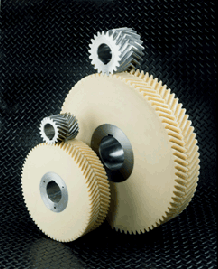 Gear Machining
Precision Machined from Stocked Bars
Sizes to 36" OD, Ring Gears to 8' OD
Easily Machined
Keyway Cut into Metal Core
Gear Backlash to Compensate for Swelling Not Required
Can Be Machined with High Accuracy - to AGMA Class 10
Bore in Metal Core Used as Reference for Concentric Gear Machining
Gears Can Be Purchased Finished Machined or
Material Bar Stock Available for Machine Shops
Durability Calculation & Engineering Design Assistance
Our proprietary gear durability calculation was developed by Intech engineers to assess the number of hours of trouble-free performance for the specific conditions of your application. The durability calculation is based on data derived from years of laboratory testing and gear design.