Gear Calculation Process
"I would like to eliminate lubrication in my gear drive, but will plastic gears last?"
We hear this question in many variations every day.

Together with a leading university we developed a gear life calculation, to reassure our customers of the reliability of Intech Power-CoreTM Gears. This calculation is a modified steel gear calculation (tooth root stress), and includes a calculation of the cycles required to wear out the tooth flank. This is especially important in applications with little or no lubrication.

The gear life calculation is based on experimental data collected in gear tests over a period of 35 years. We can say with confidence that the calculation has become a reliable predictive tool. Furthermore it allows our engineers to ask "what if" questions and optimize the plastic gear design. This means we can calculate and review every gear application we receive for suitability.
Call Intech today at 201-767-8066 or Toll Free 1-877-218-2650
for more innovative answers to your plastic gear and application questions.
Click here to complete our Power-Core™ Request for Quote form.
An Intech engineer will return your call and answer your inquiry within one business day.
Using this software, our engineers will:
Assess tooth root strength to predict premature fatigue failure for plastic gears
Assess the flank pressure safety to predict premature wear of plastic gears
Select the appropriate shock loading factor
Calculate the required backlash
Select the correct metal core size
Modify tooth geometry, if required
Call you with plastic gear design suggestions to extend gear life
Size the plastic gear for you
Click here to select INTECH Power-Core Gear Card listing all information required to do a calculation for you!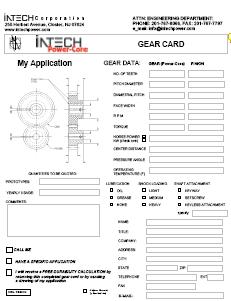 Sample Gear Calculation