Power-Core Polymer Impellers Resist Cavitation, Corrosion, and Erosion
Power-core impellers are cast into near net shapes - reducing the machining cost of traditional fiber reinforeced phenolic components. The unique balance of properties of our impellers allows them outlast and outperform metal and composite impellers.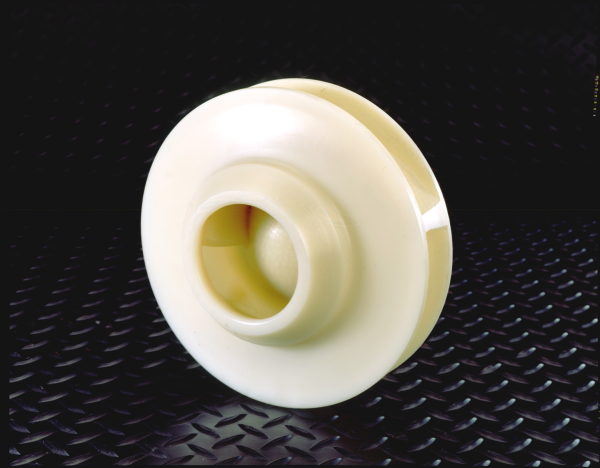 For 30 years Intech has been a leader self-lubricating components for power transmission and motion applications . Recent studies by Intech's RD department have yielded insights into an innovative pump solution for the Marine and Industrial markets.
Intech's impellers, valvles, seals, and pumps are impervious to corrosion, erosion and cavitation.
That means that Intech Power-Core Impellers never corrode in Salt Water, Waste Water, or Chlorinated water or many other chemical applications. Intech engineers have developed complex life calculations of plastics of the last 30 years and can accurately predict the life expectancy and total cycles of their components.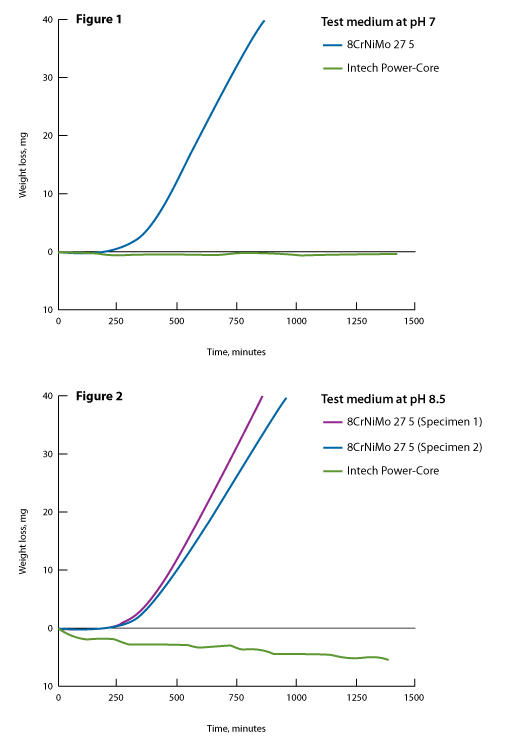 Power-Core impellers are cast out of a propriety formula that yields the only grade of non hygroscopic cast nylon named Intech Power-core. Intech's proprietary material offers higher mechanical strength, ideal balance, enhanced performance, smooth & even surfaces, and ultimately longer life.
Some advantages include:
1. Corrosion Resistant and Chemical Resistant
2. Never Corrode in Salt water – Waste water – Chlorinated water – Petroleum applications
3. Power-Core Impellers are Cavitation and Erosion Resistant (see the image below)
4. Intech Power-core Impellers are 1/7 th the weight of Steel or Bronze. That means that, because of the strength to weight ratio of the Power-Core Material, Intech impellers require less energy to run – have a smaller moment of inertia (less start up load), can improve bearing and mechanical seal life, and ultimately produce less vibration and shaft deflection – reducing the costs of replacing a bent or broken shaft or the noise of an impeller running out of alignment.
5. Intech Impellers are cast to near net shapes and thanks of the Power-core material properties yield a perfect balance and maintain that balance over the life of the pump
6. Eliminate electrolysis: Power-core is an inert cast monomer and does not conduct elctrolysis and thereby prologs the life of metallic pump casings.
7. Tighter Seals – Powercore seals will not gall or seize like metallic or composite based rings, therefore they can operate in tighter clearances permitting less leakage through the rings and impellers which additionally increases pump efficiency. Intech casing rings seal the casing preventing "wash out" of the casing ring landing areas that is a common maintenance problem with centrifugal pumps.
8. Reduces noise and vibration – Because of the extremely tight tolerances achieved through the proprietary power-core casting process – Power-Core impellers are light weight and exhibit excellent vibration dampening and noise absorbing qualities. This ultimately reduces noise and vibration in the pump better than any other material on the market.
Impellers cast from powercore offer tremendous advantages over traditional impellers cast from metal:
1. 7 times lighter than metal
2. Tremendous Mechanical Strength
3. Corrosion Resistant
4. Erosion Resistant
5. Cavitation Resistant
6. Outlast & Outperforms – stainless steel, bronze, duplex steel, monel and even titanium
7. Lower Total cost because of net casting process and years of trouble free performance
Industries that would benefit from Intech Power-Core Impellers and Seals Are:
1. Marine
2. Navy
3. Industrial
4. Oil & Gas
5. Chemical Industries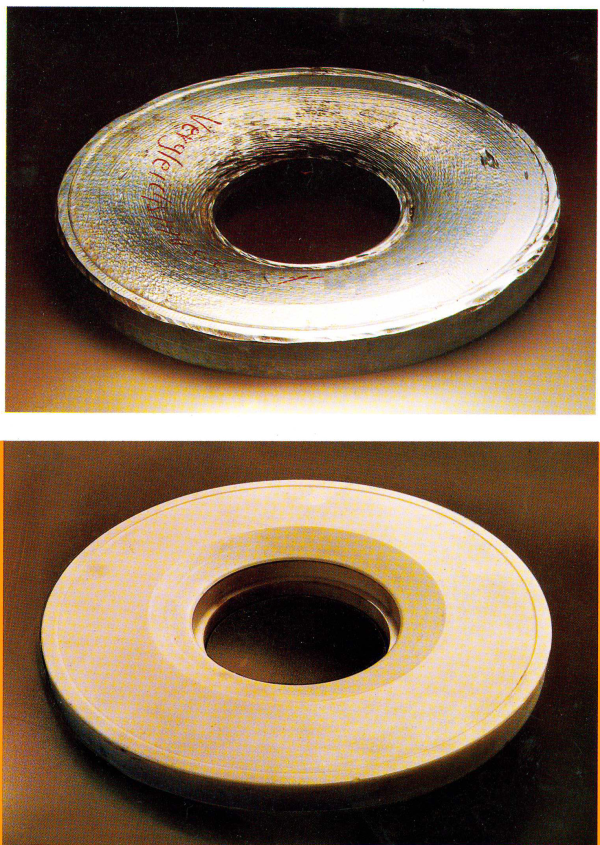 Test results when power-core and metal were run side by side in a sugar pump application for one sugar season (4 months) in a Ph 3 liquid containing suspended particles. The caviation wear and erosion to stainless steel are clearly visible while Power-Core exhibits no noticable wear.