Pulleys & Sprockets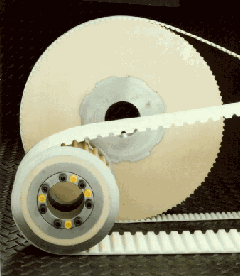 Pulleys
INTECH Power-CoreTM timing belt pulleys exhibit wear resistant characteristics which eliminate metal particle contamination and reduce friction, inertia and vibration.

The light-weight, composite pulleys permit higher belt and rotational speeds and require less energy to bring machinery smoothly and quietly up to full speed or to slow down during frequent stop-and-go operations, to outperform pulleys made of traditional metals.


Benefits of INTECH Power-Core™ pulleys: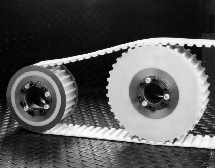 Self-lubricating feature reduces friction
Minimal pulley wear
Precision machined from composite material cast around metal hub
Metal hub permits secure attachment to the shaft
Allow high torque transmission & high speed operation
Light weight
Reduce centrifugal forces and vibration
Minimal sliding resistance for belt
Low belt wear
No metal dust contamination

Availability:
Available with or without flange
For applications requiring frequent wash-downs pulleys can be made with stainless steel core
Most common tooth profiles available
Standard sizes from 1" to 36" OD
Sprockets
INTECH Power-CoreTM sprockets are available with or without metal core. Please send us your sprocket data and we will be glad to provide you with price quotation, and if necessary with design assistance.

The material's properties lend themselves to superior wear characteristics of the sprocket teeth. INTECH Power-Core™ sprockets do not wear out the chain.