iCam Followers®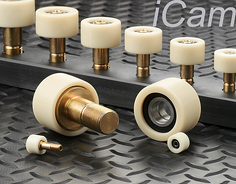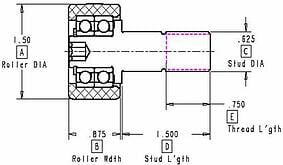 Standard Sizes Available click here for dimensions, load capacities
Benefits and Advantages
iCamFollowers
®
are constructed with a precision machined composite outer raiser/tire, with two high quality bearings and a 303 Stainless Steel shaft. All dimensions can be cross referenced to metal cam followers.
Advantages and savings:
Do not require lubrication
Do not damage or wear out the rail
Reduce noise by up to 10 dB
Do not contaminate products with grease
Do not contaminate surroundings with metal particles
Have lower rolling resistance
Allow higher speeds than metal cam followers
Can carry axial load
Are vibration damping and absorb shock
Composite tire does not absorb moisture (marine applications)
Corrosion resistant type available
Offer lower inertia (weight)
Carry load in sub-zero temperature
Load capacity and life calculation
Design and engineering assistance
Standard sizes available
Contact us on Freephone 1-877-218-2650 to request a no-obligation price quote for your application
or send any questions via E-Mail to: info@intechpower.com
Do not need lubrication
Precision fit bearings installed in the iCams are lubricated for life. The outer raiser/tire is precision machined from self-lubricating, engineered plastic that does not require lubrication between the cam follower and the rail, as is the case with metal cam followers, to prevent wear. The central lubrication systems can be shut off or, in new designs, eliminated entirely offering substantial savings in material (grease, hardware, s
impler design) and labor (maintenance).


Do not damage or wear out the rail
Metal cam followers can damage a rail, especially when the rail is made from Aluminum. There could be more than one reason for rail wear. For example when the cam follower's needle bearing is over greased and the load is not high enough to overcome the internal friction, the outer raiser may not turn, sliding instead on the rail (skitting), causing wear. Having metal cam follower rolling on Aluminum will cause wear. To prevent this, a costly steel plate is often installed over the Al rail.
iCam Followers can run directly in an Aluminum rail without causing wear or damage. For higher loads we recommend the Al rail be hard coated.


Reduce noise by up to 10 dB
The composite tire does not generate the same frequency mechanical waves as metal. In fact, it absorbs energy and, when compared to a metal cam followers, it interrupts the magnification of noise born in the rail. iCamFollowers® reduce noise even when compared to other plastic tires. The homogenous crystalline structure of the PowerCore material allows for very precise machining, as it present an even resistance to the cutting tool on the entire surface. The result is minimal run out, +/- 0.001" or better, contributing to a very smooth and quiet rolling.


Do not contaminate products with grease
Excess or low viscosity grease, from internal lubrication or the greased rail, especially at higher speeds, can become loose and splash onto the production part. If not detected immediately, large portions of production may have to be blocked off in the warehouse and eventually scrapped.
iCamFollowers® eliminate the contamination danger and all the associated costs.


Do not contaminate surroundings with metal particles
This property is particularly important in clean rooms, food and pharmaceutical production. The wear that occurs when metal cam followers are running on steel or Al rails manifests itself in the surrounding environment as tiny metal particles. These can deposit themselves on the processed product causing unacceptable contamination.
iCamFollowers® do not generate any metal particles as the composite outer raiser is softer compared to a steel or Al rail. If sized properly for the load, wear on the plastic tire is negligible. The clean room design features SS bearings, SS shaft and special clean room approved grease.

Have lower rolling resistance
Two iCam components contribute to easy rolling of the cam follower – low friction tire, machined with high run out accuracy and precision ball bearings. Higher friction needle bearings and metal outer raiser require more force to produce rolling motion in metal cam followers.

Allow higher speeds than metal cam followers
Conventional cam followers utilize needle bearings as rolling elements. By definition and in contrast to ball bearings, needle bearings are used for lower rotational speeds. The iCam's self-lubricating tire, requiring no external lubrication, also contributes to higher achievable linear speeds.


Can carry axial load
Needle bearings used in metal cam followers are not designed to carry any axial load. While we do not recommend to use iCamFollowers® for axial load, should axial load occur during operation, the iCam Follower will carry it until the cause can be eliminated. The outer raisers of the ball bearings are captured in two shoulders which can carry significant axial load, as can the ball bearings.


Composite tire does not absorb moisture (marine applications)
Intech PowerCore material used for the iCam's tire does not absorb moisture (see graphics) and remains dimensionally stable. This is important as the tire retains firm grip on the bearings and the outside diameter does not interfere with the rail, ensuring continuous and smooth performance under load. (For example, doors on luxury boats typically run in an enclosed rail and swelling of a plastic tire will cause interference).
For severe environments, such as salt water, both the bearings and the shaft are available in stainless steel.


Are vibration damping and absorb shock
The tire material, through its elastic properties will dampen shock and vibration, with out developing a flat. It also insulates (interrupts) sound waves, reducing noise. When replacing metal cam follower, customer find that machines run quieter (sound) and with less vibrations.
It is important to note, that iCamFollowers® perform even in severe applications and subject to constant vibration and shock load such as railway car doors, Al can extruding machines (neckers), automobile sliding doors etc.


Corrosion resistant type available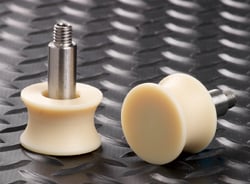 For corrosive environments such as salt water, chemicals, or where sanitary conditions require, iCams are available with SS bearings and shafts. To protect the bearings even more, Intech offers an enclosed design, where one side of the cam follower is enclosed entirely and the gap between the shaft and the tire shoulder is minimized.
The iCam's tire is corrosion resistant to most chemicals. Ask for a list or a sample for a test.


Carry load in sub-zero temperatures
iCamFollowers
®
can be used freezing temperatures. Our extensive tests with ski lifts show that even at minus 60 deg. C (-60C) the tire material still retains sufficient properties to safely carry designed load and absorb shock. In similar conditions other plastics will become brittle and likely fail, as the absorbed moisture will freeze out and the internal stresses return.
Offer lower inertia (weight)
iCam Follower OD1,5" weighs about 40% less then same size metal cam follower. The lower weight has a big impact an the inertia, especially at higher speeds. In one instance, where the customer tried to increase the speed of a packaging machine, the metal cam follower actually disintegrated. The iCam solved the problem. (cam follower OD 32mm, linear speed 5.1m/sec, max impact load 849lbf on metal CF, cycle time=0.15sec, 24 hr operation).
Load capacity and life calculation
In a three year long study with a leading university, engineers tested the load capability of the Intech PowerCore™ tire material and developed an industry unique load calculation. Specific attention was given developments of flats both under static and dynamic loads. The resulting calculation allows Intech's engineers to calculate a safe static load for a cam follower size at which no flat develops and which it can carry dynamically for 100 million cycles. The calculation had proven to be a reliable predictive tool.
Design and engineering assistance
Using the calculation described above Intech engineers will help you select the appropriate iCF size for your application or will design one for your specific need. Please fill out the Roller Card and send it to us.
Click here
to download the Card.
Standard sizes
iCamFollower® sizes can be directly cross referenced to metal CF's for easy replacement.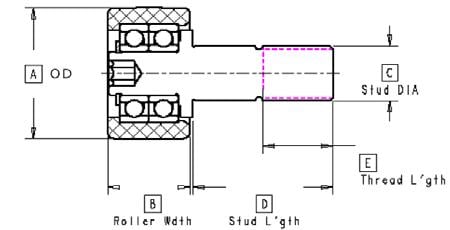 Intech PowerCore™ Cam Follower Sizes
PART NO.

Outside Dia. A [IN]

Width B [IN]

Stud Dia. C [IN]

Stud L'gth. D [IN]

Thread L'gth.E [IN]

Fine Threads UNF

Load Capacity

Lb

IPC-0.625

IPC-0.750

IPC-0.875

IPC-1.000

IPC-1.125

IPC-1.250

IPC-1.375

IPC-1.500

IPC-1.625

IPC-1.750

IPC-1.875

IPC-2.000
Cross Reference Chart
Intech PART NO.

McGill Part No.

RBC Part No.

Osborne Part No.

Carter Part. No.

Torrington Part No.

INA Part

No.

Smith Part

No.

IPC-0.625

IPC-0.750

IPC-0.875

IPC-1.000

IPC-1.125

IPC-1.250

IPC-1.375

IPC-1.500

IPC-1.625

IPC-1.750

IPC-1.875

IPC-2.000
Call us Toll-Free 1-877-218-2650 to request a no-obligation price quote for your application
or send any questions via E-Mail to: info@intechpower.com

Intech Cam Followers - Close up Images