Spiral Bevel Gear Specifications
Spiral Bevel Gear Set, OD 4.5"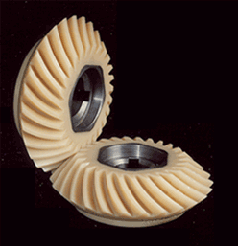 Application:

Printing equipment

Problem:
Noise

Solution:
INTECH Power-Core gears were selected to reduce noise. Noise reduction compared to steel gears by 6.5 dBa.

Worm Wheel Gear Specifications
Worm Wheel

Application:

Textile machinery, semi-conductors, packaging, etc.

Problem:
Wear on bronze gears, frequent maintenance requirements.

Solution:
Worm gear made of INTECH Power-Core, worm case-hardened, ground steel. Extended life from 1 year on average to 3 to 4 years. Reduced noise by 6 dBa, improved efficiency from 70% to 74%.