Typical Plastic Gear Applications
Due to plastic gears' relatively recent "coming of age", many products in the marketplace still use steel gears. In fact, plastic gears have always had a hard time shedding a negative stigma and concern with their use, dating back to when the only applications for plastic gears were found in toys and other non-critical applications. Through advancements in plastic resins and manufacturing techniques however, plastic gears today can be utilized in a multitude of crucial applications, from transmitting amounts of torque to accurate positioning of critical components in medical devices. Plastic offers many benefits, including design flexibility and significant cost savings.
Plastic gears possess many advantages over those made of metal. Plastic gears are lighter, quieter, retain an inherent lubricity and are corrosion resistant. They can be produced in a variety of types, including bevel gears, offset bevel gears, spiral bevel gears, helical gears, metric gears, metric spur gears, plastic worm gears and more. Cams, lugs, ribs, webs, shafts and holes can be molded into plastic gears in one integral design in a single operation, opening the door to significantly lower production costs. This versatility has paved the way to a nearly endless list of applications, including: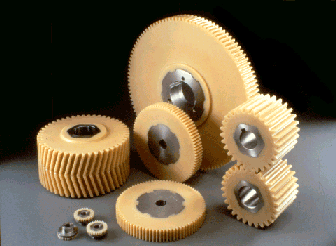 Automotive
Blenders
Converting
Conveyors
Electronics
Feeder Drives
Food Processing
Home & Garden
Indexing
Marine Steering
Material Handling
Medical
Mixers
Movie Animation
Office Machines
Packaging
Paper Processing
Power Transmission Distributors
Printing
Punch Presses
Robotics
Semiconductors
Call Intech today at 201-767-8066 or Toll Free 1-877-218-2650
for more innovative answers to your plastic gear and application questions.
Click here to complete our Power-Core™ Request for Quote form.
An Intech engineer will return your call and answer your inquiry within one business day.