Quiet Sliding Door Hardware Plastic Rollers
Plastic Sliding Door Rollers supplied by Intech are currently being used in numerous demanding applications where flat spot development, skidding, and noise are not an option.
Automotive sliding door applications such as in transport and transit van sliding door rollers, In mass transit applications such as in train door rollers for subway doors and in light rail applications. Intech has designed custom sliding entry door plastic rollers for one of the leading security door manufactures. For light duty applications such as architectural installations and light industrial uses we offer a finished track and trolley system which we ship from stock.
For more information on sliding door hardware with plastic bearings please download our whitepaper :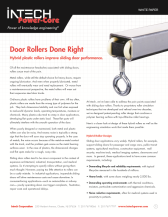 The INTECH Power-Core™ Track and Trolley System represents a new generation of quiet, precision motion components.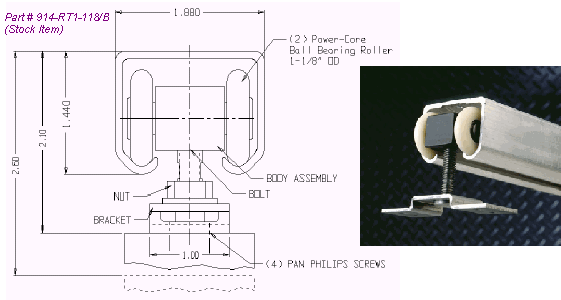 STOCK ITEMS:


ALUMINUM TRACK & TROLLEY SET:

Track rollers set capacity 400 lb;
Consists of std. 8' length of aluminum rail and 2 complete trolley assemblies.


TROLLEY ASSEMBLY WITH HARDWARE:

Load capacity per trolley--200 lb;
Double wheel ball bearing hanger with vertical bracket adjustment up to 1/2";
Wheels 1-1/8" dia machined from special Power-Core material;
Body, bolt plate, and spacer--black oxide coated;
Mounting door hardware included.
RAIL

Aluminum 6063 extruded--0.095" thick
Standard length is 8'.

ITEMS NOT HELD IN STOCK:


OTHER MODELS:


2.5" Trolley Model 914-RT1-250
Trolley with Eye Bolt Model 914-RT1-118/E
Heavy-Duty 6" Four-Wheel Trolley for Hangar Doors Model 914-FT1-600/2


CUSTOM DESIGN:

Intech engineers will be glad to review your application for the use of standard parts or design a trolley and rail to suit your specific needs.