FLAT ROLLER SPECIFICATIONS:
Type 914-FT1SBS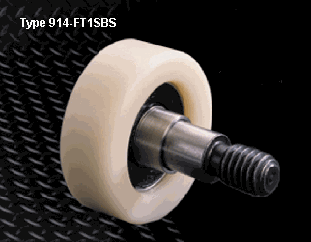 Flat plastic roller with ball bearing, shoulder bolt and spacer.
Flat Tire Cam Follower Specifications:
Type 914-FTCF
Flat tire cam follower with nut.

Steel cam follower with installed Intech Power-CoreTM tire to reduce noise, and to prevent the rail from wearing.

Application: Exercise machines, palletizers, bottle capping machines.