ROUND TIRE ROLLER SPECIFICATIONS:
Type 914-RT1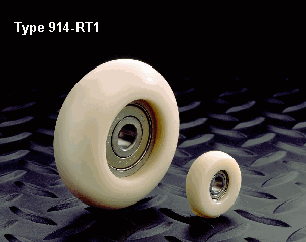 Round plastic tire.

Self-aligning roller with round tire profile, used with concave rails, or where misalignment exists.

Application: Film packaging machinery.
Crowned Tire Roller Specifications:
Type 914-CRT2
Crowned tire with 2 roller bearings.

Plastic roller assembled with two (2) roller bearings.

Takes heavy loads in automated pallet handling systems, works in ambient and freezing environments.