SLIDING DOOR TROLLEY SPECIFICATIONS:
Sliding door trolley sub-assembly with roller type 914-RT1.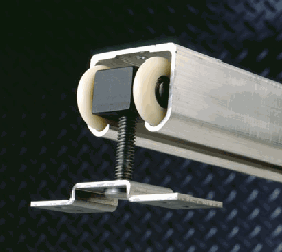 Complete sliding door trolley assembly with door attachment hardware.

Wheels, type 914-RT1, rotate independently around precision axles and allow tight curves in the rails.

Special hardware locking system (not shown) prevents door from disengaging.

Four plastic wheels (two assemblies) can carry doors of up to 500 lbs.
Axle Assembly Specifications:
Axle assemblies for clean room container conveyor (bucket) with roller type 914-FT1 and special bearing lubricant.

Constructed with stainless steel bearings filled with clean room approved lubricant. Stainless steel shoulder bolt attaches wheels to shaft for easy assembly / disassembly.