Typical Plastic Roller Applications
INTECH Power-Core™ plastic guide rollers and iCamFollowers® are constructed with a precision machined plastic tire installed over high quality roller bearings. They run more quietly than metal roller bearings and cam follower bearings, do not wear out the rail or track, do not require lubrication, absorb vibration and shock, do not swell in moistur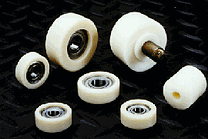 e, work in sub-zero temperatures and have low rolling resistance. These features, including a high load-bearing capacity, make the Power-Core™ plastic guide rollers and iCamFollowers suitable for countless applications.
Some examples include:
Automation
Index Table Support
Linear Positioning Devices / Slides
Tool Attachment Slides
Conveyors
Automobile Assembly Conveyors
Belt Conveyor Guides
Chain and Belt Support
Clean Room Conveyors
Conveyors in Refrigeration Systems
Escalators
Roller Conveyors, Cartons
Entertainment
Camera Guides (TV, NASCAR)
Theater (stage panels, stage doors)
Industrial Processing Equipment
Automated Warehouse Wheels
Can Making Machines (neckers, light testers)
Laser Cutting Machines
Paletizers
Printing and Sorting Machines
Medical Equipment
Hospital Beds
Incubators
X-Ray x-y support
Packaging Equipment
Many types (no rail wear, no lubrication, high speed, shock absorption, wash down)
Radars
Guide Rollers for Radar Base
Semiconductor/Clean rooms (not metal particles, no lubrication, resistant to chemicals)
Semiconductor Inspection Machines
Solar Panel Wafers
Ultrasonic Washers / Slides
Sport Equipment
Exercise Machines
Gondolas
Ski Lifts
Transportation
Aircraft Sliding Doors
Architecture Doors (500 lbs)
Automotive (sliding doors in vans, skid steers)
Marine (sliding doors on boats, sea structures)
Machine Guard Sliding Doors
Train Doors (AMTRAK, subways, Airport people movers)
Other
Fire Truck Ladder Guides
Truck Seats
Lifts
...wherever precision, quiet and effortless motion is required, and high-quality, long-lasting guide rollers and iCamFollowers can reduce maintenance and downtime.
Call Intech today at 201-767-8066 or Toll Free 1-877-218-2650
for more information regarding plastic guide rollers and iCamFollowers.
Click here to complete our Power-Core™ Request for Quote form.
An Intech engineer will return your call and answer your inquiry within one business day.